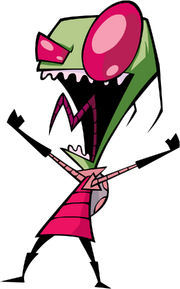 Invader ZIM is the titular protagonist and antihero of the franchise of the same name. He is a member of the alien Irken race. Since his actions usually lead to disaster (having nearly destroyed the Irken homeworld during Operation Impending Doom I) his leaders, the Almighty Tallest, banished him to Foodcourtia. While there, however, Zim heard of Operation Impending Doom II, and - obviously not understanding the purpose of his previous exile - "quit being banished" and ventured to Conventia in the hope of getting an assignment. Chagrined, the Almighty Tallest sent him on a "secret mission" to Earth (though they did not know much of the planet at the time), in order to keep him away from Operation Impending Doom II.
Ad blocker interference detected!
Wikia is a free-to-use site that makes money from advertising. We have a modified experience for viewers using ad blockers

Wikia is not accessible if you've made further modifications. Remove the custom ad blocker rule(s) and the page will load as expected.