| | | |
| --- | --- | --- |
| " | I'm a superhero. I'm way too busy doing hero stuff to worry about your little car problem. | " |
| | ~ Terrifi-Guy responding to Dan after he helped the firefighters take down the fire in an apartment. | |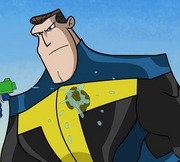 Terrifi-Guy is a hero antagonist from the animated series Dan Vs. He was the main antagonist (despite being somewhat a hero) of the episode, Dan Vs. The Superhero. His secret weakness is hot sauce. When it comes to superpowers he has laser beams, superhuman strength, invulnerability and flight. He was shown be bit of a snob, saying he's better than everyone else. He is voiced by Clancy Brown.
Dan hears about Terrifi-Guy stopping a jewel robbery on the news while sitting on his couch with his pet cat, Mr. Mumbles. Terrifi-Guy first appears by using his superhuman strength to take down a van of robbers nearby Casa Paradiso. Dan claims he is awesome, which the mighty superhero responds by agreeing with him. After he flies off, he accidentally destroyed Dan's car, which makes him flip out and grow a hatred for him. After he destoyed Dan's car, he helped a group of firefighters stop the fire and save the apartment. Dan steps right into him, getting into an argument. Terrifi-Guy insults Dan and flies away. Chris tells him that he's a big fan. Terrifi-Guy responds by using arrogance.
Ad blocker interference detected!
Wikia is a free-to-use site that makes money from advertising. We have a modified experience for viewers using ad blockers

Wikia is not accessible if you've made further modifications. Remove the custom ad blocker rule(s) and the page will load as expected.