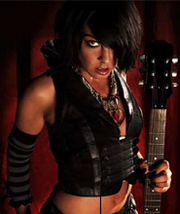 Sylvie was the icon of Howl-O-Scream Tampa Bay at Busch Gardens during 2010. She was leader of the alternative rock band called MyX. She discovered her boyfriend who used to be the band's leader, with another young woman, and because of this, she now seduces men and uses her guitar strings to mutilate their index finger, as her room is filled with jars of index fingers. She is played by singer Kelly Riot.
Ad blocker interference detected!
Wikia is a free-to-use site that makes money from advertising. We have a modified experience for viewers using ad blockers

Wikia is not accessible if you've made further modifications. Remove the custom ad blocker rule(s) and the page will load as expected.