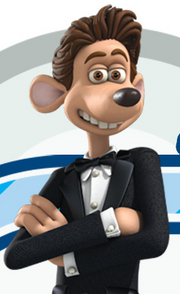 Roddy St. James of Kensington is the main protagonist of the DreamWorks Animation and Aardman Productions animated film Flushed Away. He is a pet rat who lives in an apartment in Kensington from England. He is pretty selfish and arrogant. Sid Malone sent him down to the sewers after he attempted to knock Sid off the toilet and flush him. He appears to be a tall and slim rat wearing a tuxedo suit, brown hair, and black shoes. He is voiced by Hugh Jackman.
Ad blocker interference detected!
Wikia is a free-to-use site that makes money from advertising. We have a modified experience for viewers using ad blockers

Wikia is not accessible if you've made further modifications. Remove the custom ad blocker rule(s) and the page will load as expected.