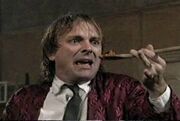 Richard Richard (Richie) is a perpetually optimistic, boring, sexually repulsive, clinically insane, cowardly, violent, perverse, loud, obnoxious dimwit. He is Edward Elizabeth Hitler's best friend/housemate/companion/Archenemy and spends all of his time fighting with Eddie, masturbating and boring Eddie to tears with his constant prattling.
He is played by Rik Mayall.
Ad blocker interference detected!
Wikia is a free-to-use site that makes money from advertising. We have a modified experience for viewers using ad blockers

Wikia is not accessible if you've made further modifications. Remove the custom ad blocker rule(s) and the page will load as expected.