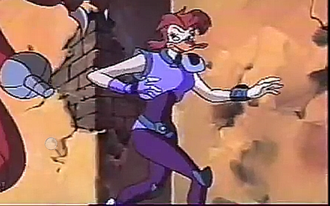 Mallory is a fiery redhead who is well-learned in Puckworld's version of the martial arts, although most of the time she is content with just using a Puck Blaster. She has a sharp tongue and usually directs it towards Nosedive's immature acts, or anything that she feels is "out of line." Her trust is easily broken, particularly in Duke's case, and as she sees it, for some very good reasons. With her strong military background as a member of the "Puckworld Special Forces," she often thinks in black and white. She's a strict disciplinarian, and has a high regard for the chain of command. She's also stubborn, which can be a fault as much as a strength. Mallory is the team's right winger, and her jersey number is 15.
Ad blocker interference detected!
Wikia is a free-to-use site that makes money from advertising. We have a modified experience for viewers using ad blockers

Wikia is not accessible if you've made further modifications. Remove the custom ad blocker rule(s) and the page will load as expected.