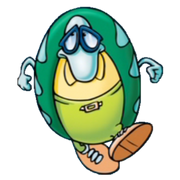 Filburt Shelbach is a main and originally secondary character of the television series Rocko's Modern Life and the comic book series of the same name. Doug Lawrence provided Filburt's voice, while Tom Kenny provided Filburt's singing voice in the episode "The Lounge Singer."
Also See Hognose Snake
Ad blocker interference detected!
Wikia is a free-to-use site that makes money from advertising. We have a modified experience for viewers using ad blockers

Wikia is not accessible if you've made further modifications. Remove the custom ad blocker rule(s) and the page will load as expected.