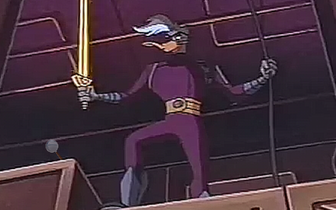 A notorious jewel thief on Puckworld, Duke changed his ways to battle Lord Dragaunus. Duke has used a Puck Blaster in some episodes, but he mainly uses a golden sword called a Ducksaber (or sometimes just a 'saber'). He also carries lock picks and a grappling hook attached to his wrist. Duke is pretty level-headed, albeit egotistical at times. He also has an eyepatch and a chipped beak, possibly as a result of his past as a thief (In the episode "Dungeons and Ducks", he tells Borg, "Hey, take it easy, you can put someone's eye out with one of that thing [a sword]. I should know.", which might be a clue to how he lost his eye). He was the leader of a gang called The Brotherhood of the Blade. He remains the most experienced of all the Ducks and possesses a good balance of skill and confidence. Unfortunately, there are some minor trust issues with Mallory due to Duke being an ex-thief, though this fact doesn't seem to faze their leader Wildwing. His name is a pun on the dish duck à l'orange. He is the team's center, and his jersey number is 13. His character design is based on Kurama Wataribe from the Japanese animated series Mashin Hero Wataru.
Ad blocker interference detected!
Wikia is a free-to-use site that makes money from advertising. We have a modified experience for viewers using ad blockers

Wikia is not accessible if you've made further modifications. Remove the custom ad blocker rule(s) and the page will load as expected.