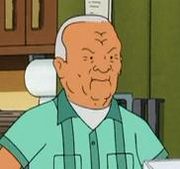 Cotton Hill
is a recurring character in the comedy series
King of the Hill
. He was part of World War II, and survived, but lost his shins. He is the sexist and short-tempered father of
Hank Hill
and the grandfather of
Bobby Hill
. As shown in a flashback on the episode where he came to Bobby's birthday party, he took Hank and his friends when they were teens to Motel Arlen so he could buy them hookers, however Hank runs away from the prostitute who greeted him.
Ad blocker interference detected!
Wikia is a free-to-use site that makes money from advertising. We have a modified experience for viewers using ad blockers

Wikia is not accessible if you've made further modifications. Remove the custom ad blocker rule(s) and the page will load as expected.